Introduction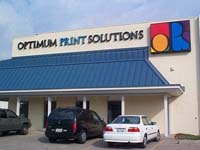 Welcome to Optimum Print Solutions!
Optimum Print Solutions could be your one source partner for design, printing, direct mail, warehousing and distribution. We can help you to stand apart from the ordinary with top quality graphic design, specialty items, and solutions built to revolve around you and your business needs.
Optimum Print Solutions has received over 125+ Print Awards for Excellence from the Printing Industry of Ohio and Northern Kentucky, and placed as a finalist at the 2008 Corporate Caring Awards.
See what our clients are saying about us!
"Thank you so much for all your hard work on the cards we ordered! They look wonderful! We look forward to working with you in the future.
- Jessica Grover
"I just wanted to thank you again for all your efforts and for providing me with such great service with my business cards. I'm sure it was much more than you wanted to spend time on but I greatly appreciate your professionalism with everything. I've already handed out about 30 or so and everyone was very impressed and immediatly asked where I had gottten them printed.
Thank you for all your help!"
- Monty, Open Image Studio
"I can't tell you how much we appreciate all your hard work. We really enjoy working with you!"
- Kelli Simon
Again many thanks to you for your service minded approach to your work! You ROCK!
- Cher Swindell, Corporate Recruiter, Pharmacy Systems Inc.
"I was just thinking of you guys as I was entering in our credit card transactions from last month. I've made sure to keep your contact information on file should we find ourselves back in Columbus again. You guys really saved the day, and the brochures looked perfect. Thanks for the great service, and we look forward to doing business with you again sometime in the future."
- Jim Casella
"No need to see the proof. I am sure the final product will look great and thank you for contributing to the success of the establishment. I'm happy to know that we are able to continue business together after all these years. I feel very comfortable when using Optimum. COMFORTABLE is very high on my list. I'll talk to you soon. Thanks again."
- Ryan C. Reidel
From initial design concept to final print,
Optimum was great to work with! We have created
a piece that no one else has in the market place!
Stephanie Parish, Marketing Director, Peoples State Bank, Francesville, Indiana
Thanks so much for designing our website! It looks really good, I'm really happy with this page, as I am with all of them!
- Jaime The Wayward Seed Farm
Thank you for helping to boost JULE'S company numbers for an even more profitable year than the prior year. The direct mail, website and email campaigns you designed were a major contributing factor to our success. Thank you for your hard work and efforts to make sure my project looked it's best and delivered on time.
- Doug Zaper JULE
A letter from the presidents: John and Dorothy Martin
Welcome to Optimum!

Nothing else conveys your message like the elegance of ink on paper. Touch it. See it. Experience it. You can create a variety of special effects with bold solids, textures, embossing or fun colors. Then personalize it, customize it and make it your own. Your possibilities are endless!
Through the combination of pictures and words on paper you can reach the heart and soul of your audience. WOW! The power of print! Nowhere does your marketing shine brighter than in the printed form. If made personal, the experience can inspire, not limit. This is what we truly love about our industry.
We invite you to discover how we add dimension to the page. Come inside. Allow us to introduce you to what can be accomplished by partnering with us. If you value integrity, teamwork, mutual respect and a commitment to excellence, Optimum is the right company for you.
Bring us your visions!